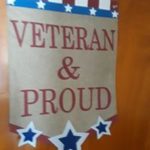 Have you ever given thought to volunteering with Alec's Angel nonprofit?  Are you wanting to do more than just "thanking a Vet for service"?  Alec's Angel volunteers are the lifeblood of our organization because they bring goodwill and the human touch in a world full of digital technology.  Today's service connected disabled Veterans need that understanding and advocacy that a volunteer mentor can provide.
Volunteerism is on the rise, and people see the impact that giving to others has for themselves and the community as a whole.
Individual Volunteer opportunities include:
calling a Veteran and establishing rapport
mentoring a Veteran at the Veteran's Affairs hospital through the disability claims process
being a trained crisis peer on standby on phone in case they need to talk and be referred to mental health professionals
offering support at a fundraising event (picking up supplies, making phone calls, directing patrons, pricing sale items, etc.)
sharing our information and connecting us with other Veterans and their families by phone or social media
connecting us to your company, church or other group to benefit Veterans through our organization
running a fundraiser or drive for a birthday, holiday, patriotic event, and offering proceeds to Alec's Angel
As mentioned above, by connecting us to your church or company, we can further our efforts.  According to Charities.org, workplace giving can also be a growth strategy for an organization or a company. They see workplace giving and employee engagement programs as opportunities to promote their mission, programs and services, and identify and recruit new volunteers.  Corporate partners extend the life of our nonprofit and helps us sustain for a larger impact, so that both sides are impacted.  Let's create a force for common good together!
The possibilities for volunteering for Alec's Angel nonprofit are endless.  We would love to partner with you for the good of Veterans.  Reach out to us at nissa@alecsangel.org.